Ya'll, it's fall!  This time around last year, I was just incredulous about the amount of layers everyone is wearing.  Yes, there is a hint of a chill.  No, we do not need to break out the puffy coats.
I also started to realize how delicious fall in Italy is.  Porcini Mushrooms.  Artichokes.  Wild boar.  Truffles.  It is a tasty season, indeed.
Unfortunately, fall also brings more rain.  Booo.
But other than the rain, this time around, I'm really enjoying the season.  I've done things like throw on a scarf and boots with my tank and shorts to show the Italians that I tried to acknowledge the change in date if not in temperature.  And you KNOW I've been eating.
I've been meaning to talk more about wardrobing here generally.  Yes, I have strayed from just one shirt, but I've devised a new uniform of sorts.  (It is basically all gray, all the time, with splashes of crazy.)  I have made some purchases, and I'm hoping to do a roundup of wardrobe additions at some point.  But this sounds big and intimidating so it might not happen.  But know that I totally want it to.  But also know that just willing things to happen seldom works for anything ever.  I've tried.
Anywho, I've made some additions I'm quite happy with.  But after assessing my wardrobe, there are a few pieces that I'd love to welcome to the proverbial closet fold for fall (and beyond).
Good Leggings
Most of my jeans actually fit right now, but I'm not reaching for them lately.  Something about the fabric touching my skin so closely just doesn't feel right.  Maybe because I have two little boys already hanging off me for (what feels like) every minute of every day.  Not you too, Fabric!  Back off!
It could be that my tastes in fit are just changing a bit too.  I wore one of my previous favorite striped tops the other day.  The whole day I was all, ugh, this is touching my stomach.  And my arms.  Why so clingy, shirt?  I guess I'm just into flowy, drapey tops these days.
For my bottoms strategy, I recently bought some winterized versions of my pajama pants.  I still need to solidify my shoe plan on these (boots and sneaks are tricky), but I'm enjoying a zipper-free alternative.
Aside:  I realized I've been venturing into full-on Man Repeller territory when shopping with friends lately.  A dear, lovely friend was torn between color choices and asked if her sweater was "safe."  I couldn't  help but giggle.  NOT at her.  At myself.  And the situation.  Because I have been straying from the person you should ask if something is safe.  I sent her this pic a few days later by way of explanation.

Another dear, lovely friend mentioned she liked shopping with her husband because she likes wearing things that he likes.  Which is definitely an excellent goal.  But it made me realize that my style is definitely not figure flattering all the time these days.  I can't quit these grandpa PJ pants that definitely add inches to your hips.  But I'm good with it.
To further expand my zipper-free options, I'd like to welcome some leggings.  I have plenty of longer tops.  I think these would definitely get use.
And even though YOU KNOW I love a crazy pant, I'm thinking more neutral with a hint of pizzazz.  Like maybe black with some mesh cutouts.  Or moto leggings.  Something like that.  But I also said I want to incorporate sequins into my wardrobe this year so all bets are off.
Anybody have a favorite legging they'd recommend???
Denim Shirt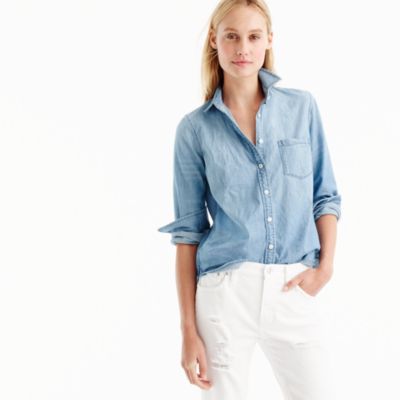 Remember a few years ago when all the fashion bloggers started wearing chambray shirts and were all, you guys totally need to get a chambray shirt?
For the first year or so I was like, PAH, I REJECT your chambray shirt assertions.
But then I started to think they looked pretty good.
I think it is my love of crazy pants.  If you have a lot going on on the bottom, it is nice to have something crisp, classic, and neutral up top.
Aside:  I've been getting apples at the market lately.  They keep asking me if I want them to be "dura" which James says translates to crisp.  Umm, duh?  Does anyone ever ask for non-crisp apples?  Yes, I'd like a peck of apples, all mealy please.  Whaa??
So I got a chambray shirt.  And I like it.  But I don't LOVE it.  Basically, because it always looks wrinkly.  And I don't iron.  I just don't.  I don't hate the act of ironing itself, but getting out the iron AND the ironing board AND getting it plugged in AND waiting for it to heat up AND then not being able to put it away immediately because it is still hot are all just too much for me.  No thank you, please.  I think it has actually been a few years since I've ironed.
So I finally looked at the tag on my shirt.  Linen.  Linen is the culprit.  Of course.  Which I guess makes sense because (as I just educated myself),  chambray doesn't have to have linen, but it seems like something that is frequently used.
I've decided that what I really want is a denim shirt.  Something soft and easy that would look good on its own with crazy pants, but would look awesome layered under my sweet camouflage sweatshirt or striped sweater.  I think it would definitely get some wardrobe play.
Boots
I feel like I had this glorious moment last year when my footwear collection was complete.  It wasn't huge, but I had variety.  Everything fit and was reasonably comfortable.  It was glorious.
Unfortunately, as you wear shoes, their comfort factor diminishes.  And they get worn.  And scuffed.  Beyond repair or the touch of polish.
I've had boots on the brain.  Specifically OTK boots.  (Which are over-the-knee boots for everyone who is not yet as obsessed as I am.)
Can I rock these?  I really have no idea.  But I can't get them out of my head.  I'm leery of any boot that you need to pull on.  My calves are of a more, ahem, solid proportion.
But wouldn't they look awesome in those leggings that I have not yet acquired?  And I found a waterproof one that would be money for these rainy fall days.  Only flats being considered, of course.
I blame fashion bloggers for this.  (Apparently, I am much more susceptible than I thought.)  But they just look so cool!  Maybe I'll sit and simmer on this one awhile.  Or maybe I'll just order a pair, realize this is ridiculous, and set my sights on better dreams.
Such as moto boots.  My other boot obsession of late.  I currently have tall boots and short boots, but nothing in between.  I hope to get at least one pair of Frye boots in my lifetime.  Maybe this is the moment?
Suspenders
I'd love to tell you that I've spotted some early European trend that you could adopt and be totally hipster and avant garde.
But I can't.
I just kind of love the idea of suspenders.
I've been wearing more high-waisted stuff lately.  Particularly my grandpa pajama pants.  Suspenders feel just kind of, right, you know?  No?  Just me?  Well, we'll see if I actually do it.  But I have been thinking about it.
Maybe I'll just get a harness instead.
This Tee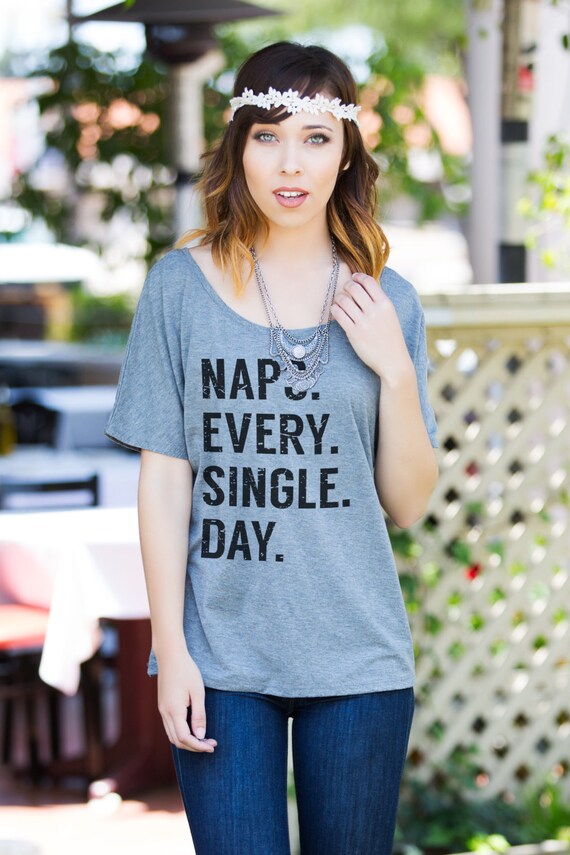 So I don't really need this shirt, but I've been a little obsessed with my "Haters gonna hate" graphic tee, and I can't help but think this would get some serious play.  Hilarious and true, amiright?  Christmas list maybe?  And you know what would look great with this top?  SUSPENDERS.
That's it for now.  Are you digging fall?  What item is at the top of your wish list?  Blanket scarf?  Thinking of taking the OTK plunge?  And PLEASE let me know if you have a go-to legging.