So earlier I talked about designing our new lives in KL.  Now I'm talking about design at home.  Specifically, how to decorate our digs for the next three years.
I struggle on this one.  Three years is temporary, but it's still a decent chunk of time.  But should we be investing time, money, and energy into decorating?  There are so many things I like to spend my resources on.  (Namely travel and food.)  Where does this fall into the picture?  Is having a music-activated disco ball in the guest bathroom a need or a want?
I am hoping to keep things more clutter free.  It helps that we have a nice big ole space.  Room for things to have their own designated spots.  It also helps that we aren't home as much.  Less time to mess things up.  Also, the kids have a dedicated play space, which they actually seem content to use.  For now, the toys are corralled to that area instead of finding their way all over the house.  Fingers crossed this continues.
I'm telling myself to hold off on any big projects until all of our stuff arrives.  I have a lot of art.  I should see where this might go before thinking that we need new things.
But I've realized that I gravitate toward big pieces.  I'd rather have one giant statement piece instead of a collection of little things.  That's just me.
Also, because this is temporary, I feel like we can take more risks.  Add some whimsy.  For example, a 15 foot giant giraffe that could hang out in the corner sounds good to me.  (I've been really drawn to giraffes lately.  And flamingos.  No idea why.)
So I'm trying to be patient, but my brain is spinning with ideas.  I have approximately 11 billion tabs open on my computer with inspiration.  The internet is a blessing and a curse.  So many ideas!  But so many that it feels hard to choose.  If I keep looking, I might find something even better . . .
I stumbled across Megan Duesterhaus's blog The Home I Have Made.  Check out her awesome ideas for things renters can put on their walls.  Talk about a creative lady!  I'd love to do some things like this.  I do worry though.  If I do a big installation, will it look awesome or will it look like a sad art project?  You know the kind that didn't really work out.  I am more known for my Pinterest fails.
But I'm still going to try.  I'm thinking all things wall decals and removable wallpaper right now.  Because of our insanely tall ceilings though, full wallpaper is kind of out of the question.  I can't even find a spot where an accent wall could work.  I'm thinking more about using removable wallpaper on furniture.  What about on top of a desk?  Dresser or wardrobe drawers?
I am also finding decals that I love.  SO MANY CHOICES.  Etsy.  Amazon.  Dedicated wall covering sites.  My head is spinning with possibility.
Also, things are definitely beige here.  Which is fine, but I lean toward the cool spectrum.  If I had a choice, everything would be light gray.  Or even white.  I could paint, but especially with those tall ceilings, it just seems like too much work.
I'm trying to lean into the beige though.  Maybe beige with gold accents for a luxe look.  I keep adding lots of white and fluffy as well.  (This is my new TV watching blanket that I love.)  I want lots of texture.
All of these ideas are half baked, but these are things I'm interested in right now.
I keep coming back to these cacti from Walls Need Love.  They fit the bill for big.  Also, I love the birch trees you see everywhere (and we had in Henry's nursery), but I think they would look awkward if they just stopped mid-wall.
Also, Walls Need Love has all sorts of gorgeous removable wallpaper.  I keep coming back to this art deco print.  Too pricey for the walls, but maybe on top of a desk or end table?
Or this one.  🙂
How gorgeous is this wall?  Maybe mirrors separated by ribbon?  I doubt I can get James on board with this one, but a gal can dream.  I'm thinking for the dining room.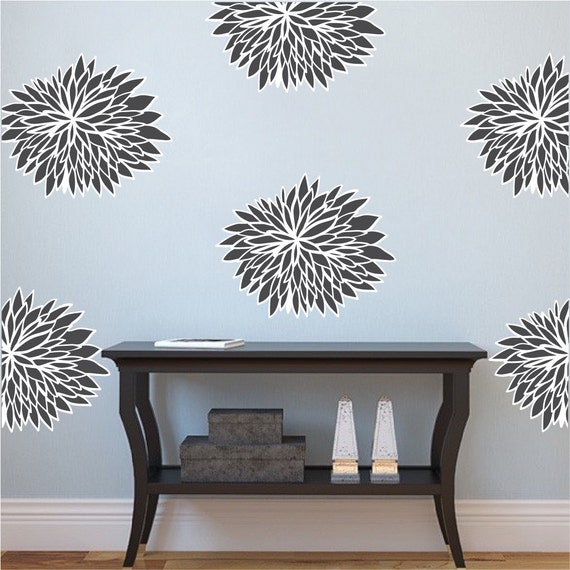 As a more realistic option for the dining room, I'm thinking 12 of these big flowers in a wallpaperish pattern.  Not sure which colors though.  (They come in LOTS of options.)  The curtains in that room are light blue.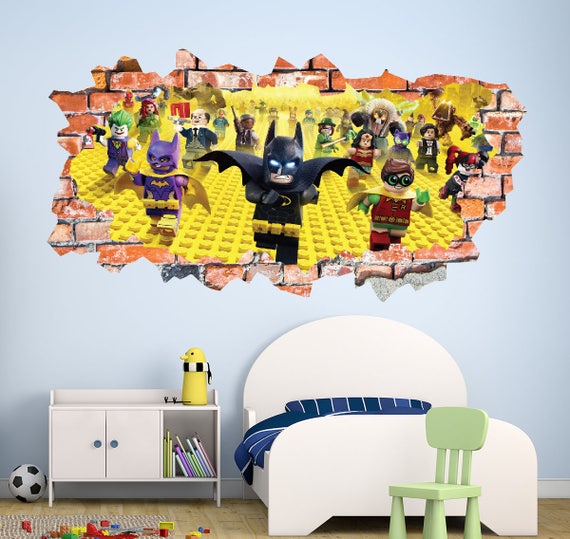 For the boys' room, I love this Lego Batman decal.  It is a bit pricey for the big one though.  (You know I need the big one.)  I'm also uncertain how much energy to spend on this space.  I like to keep the bedroom sparse.  Bedrooms are for sleeping at our house.  We keep the toys out.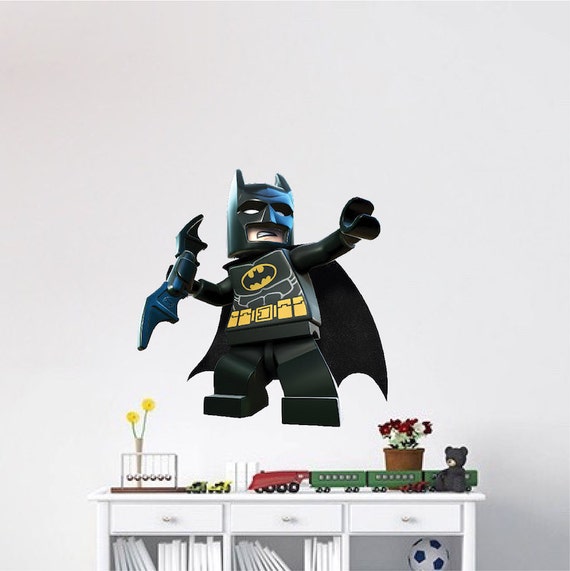 I really love this guy too.
If I don't want to decorate their bedroom, I could spend more energy on the playroom.  Because this is adjacent to the living room, I like the idea of doing something kid friendly that is a little less cartoony.
We already ordered these hooks that I'm pretty excited about.
I'm also thinking about using some of James's extensive National Geographic map collection to create some kind of map wall.
How great are these?  I could definitely see them on a gallery sort of wall in the playroom.  (They also have this one, but I think I like the separate better.)
I also really love these guys.
And don't forget about ceilings!  Even though I have no idea how to reach them, I love the idea of a big ceiling installation.  Something like this over the dining room table perhaps.  I surmise that this is some form of yarn that was left to dry around balloons, which is about seven degrees of crafty beyond my skill level, but I'm full of hope.  Misguidedly.
---
So what do you think?  Do you spend money on decorating a temporary space?  Are you Team Wall Decal?  Do you have any ideas we should try?  If it's big and crazy and beyond my skill level, I'm all ears.  🙂
P.S.  Clicking all the images above should take you to the products.  No affiliate links in this post.  Just stuff I've found when looking around.